Chondroitin Sulphate C (From Shark Cartilage)
Chemical Name: Alternating Copoly(ß-Glucuronic Acid-[1-3]-N-Acetyl-ß-Galactosamine-6-Sulphate-[1-4])
Molecular Formula: (C14H19O14N·S·Na2)·n (Sodium Salt)
Molecular Weight: 503.35·n (Na+)
Chemical Structure: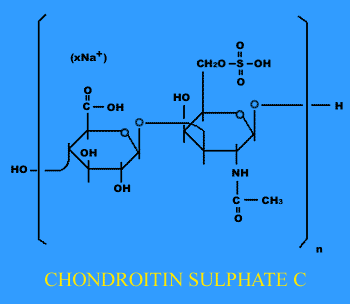 CAS NO.: 12678-07-8
Customs commodity code: 29420000

Product property & Uses:
This product is natural biomacromolecule mucopolysaccharide extracted from Shark Cartilage, as food additive and raw material for pharmacy. It is off-white powder, non-harmful, odourless, non-pollutive, non-corrosive, non-burnable, non-explosive, according with the export standard of WTO.

Specification & Package:
Content(Dry Basis)>=90%
Particle size>=100Mesh(or other sizes)
Off-white, fine powder extracted from shark cartilage.
Packed hermetically in 2 layers plastic bags(PE) and fiber drum(or carton)
Outer size: 38×38cm
Net weight: 25kg
Gross weight: 28kg
Each 20-feet standardized container can pack 14.4 tons.